PROJECT:

Classified Mathematics

We are familiar with the idea that in science we classify objects. We have the periodic table of elements in chemistry, giving structure to hydrogen, helium, and 116 other elements. Or we could look at biology's intricate hierarchy of species, where the species of polar bears ("Ursus maritimus") belongs to the order of carnivores and the kingdom of animals.

Yet, did you know that mathematicians also classify all kinds of intricate objects? This project, co-funded by a PSP-Classic grant and in collaboration with Pieter Belmans from the University of Luxembourg, aims to make the objects that mathematicians classify concrete:
A permanent exhibition of very diverse mathematical objects is installed.

An interactive show on how mathematicians look at the world and mathematical objects, and how they can classify objects ranging from different ways to tie your shoes, to crystals and surfaces is offered.
PROJECT: KitchenLab
Kitchen or laboratory?! Co-financed by a PSP-Classic subsidy from the FNR, visitors discover how much science and technology is actually hidden in the kitchen and thus get to know a new side of it. In interactive workshops, visitors discover that a pinch of biology, chemistry, physics and mathematics is hidden in every meal – this is how their interest in these topics is aroused in a playful way. To this day, this project gave the go-ahead for successful and popular activities: the KitchenLab was established, furnished, equipped and the first four workshops for all ages were developed.
– Foodtransformers: When chocolate turns whitish and changes its texture? What is behind this phenomenon and more importantly: can you repair the chocolate?
– Hack the recipe: The best-known and most important kitchen reaction – the Maillard reaction – is the reason why food turns golden brown, smells and tastes delicious when it is roasted and baked. But what exactly is going on here and how can I experiment with the Maillard reaction?
– Trick your senses: Red, green, blue … how exactly does color influence our sense of taste? In this workshop we tested it and duped our visitors.
– Spherelicious: Spherical. In this workshop, visitors learned how much science is in round food.
– ESCITEing! With the help of this project, the Luxembourg Science Center organized and animated the "Delicious Science" session at Europe's largest conference for science centers and museums: https://www.ecsite.eu/activities-and-services/ecsite-events/conferences/sessions/delicious-science
PROJECT: Descom
The Luxembourg Science Center is a partner in the Descom PSP flagship project led by the University of Luxembourg. In the context of this project science communication activities are organized and science communication courses are offered for doctoral students in Luxembourg. In the context of this project, the Luxembourg Science Center welcomes interns and hosts the comic exhibition developed by Descom.
Sonia is a doctoral candidate at the University of Luxembourg and did her internship with us at the Luxembourg Science Center: "I have always liked communicating science and sharing my knowledge with everyone. During my doctoral studies, I learned about the Science Center, and the DESCOM put me in contact to do an internship. Not only did I learn a lot more about science and communication, but I also had so much fun and collaborated with a wonderful team! My experience was so positive that, after the internship, I continue working in the Center as a scientific mediator."
"Science is sometimes difficult to explain, that's why we have to find fun ways to do it. A comic is a great way to give a message to the audience, who doesn't like comics?" – Sonia (Twitter: @scisonias)
Descom developed 7 exciting comics on the subject of research in Luxembourg in collaboration with 22 doctoral students and professional artists. These were exhibited in the Luxembourg Science Center for 5 months.
PROJECT: ScienceAlert
Where is science hidden in our everyday life? The ScienceAlert project, co-financed by a PSP Classic subsidy, is dedicated to this question. In the specially equipped LSC Studio , physical, chemical, mathematical and biological secrets of everyday life are revealed.
Which physical principle is hidden behind a corkscrew? Do energy drinks do what they promise? How does our brain actually communicate with our muscles? What do the earth and a greenhouse have in common? These are some of the questions we will find answers to during the short and interactive science shows (LSC News) "Cheers to science", "Boost your performance" and "Trapped in a greenhouse".
In addition, LSC reports, experts from the respective departments are presented in the video series and science is highlighted in their everyday life.
– EPISODE 1 – EPISODE 1 – Vinsmoselle: Charlène Muller, cellar master at DomainesVinsmoselle, explains how tartar is created and how tartar can be prevented.
– EPISODE 2 – LUNEX: Dr. Thorben Hülsdünker, Research Fellow at LUNEX University, demonstrates how training with stroboscopic glasses can optimize the reaction speed of athletes.
– EPISODE 3 – Terra: Sophie Pixius, co-founder of Terra, explains the impact of climate change on agriculture and how you can strengthen the resilience of agriculture.
The Coronavirus Mythbusters were also launched as part of this project. In this video series, myths about the SARS-CoV-2 pandemic were analyzed and corrected if necessary in collaboration with Luxembourg scientists.
You can find all the "Mythbusters" videos here: /en/mythbusters-coronavirus-15-episodes
PROJECT: EngrEdiEnts
Co-subsidized through a PSP Classic grant, this project revolves around the EngrEdiEnts of our food. You can find all sorts of incomprehensible numbers on food packaging – so-called E numbers – but what exactly is behind them? In collaboration with cooks and scientists from Luxembourg, 4 interactive workshops on the subject of E-Numbers were developed. Since then we have been decrypting this e-code together with our guests in the kitchen laboratory in an exciting and entertaining way.
E400-E499, thickeners, stabilizers and emulsifiers: Immiscible? Impossible!
What is the physical state of ice cream and what makes it so smooth? Visitors experiment with the EngrEdiEnts of ice cream and discover their influence on the taste and texture of ice cream. This workshop was developed together with the food scientist Christos Soukoulis from the Luxembourg Institute of Science and Technology.
E200-E324, preservatives and antioxidants: astronauts food.
How do we manage to preserve our food for a year on the International Space Station? During this workshop, the participants discover a wide variety of methods to preserve food.
E200-E324, preservatives and antioxidants: death vs. alive.
What do yeast and baking powder have in common and what are the differences? Through various recipes and experiments, visitors to this workshop will explore answers to this precise question.
E950 – E968, sweeteners: Sugar rush.
A sugar frenzy without calories – is that even possible? Visitors experiment with sugar and sugar substitutes in order to discover the properties of the individual molecules.
Together with the Luxembourgish chefs Damien Klein, Ben Weber and Cathy Goedert and the support of the Laboratoire Luxembourgeois de Contrôle Sanitaire, we have produced three videos on the subject of E-Numbers. Here delicious recipes were cooked and the science behind them explained.
Smoked salmon at E249-E252
The curing and smoking of salmon extend its shelf life, that much is clear. But how does it work? What would happen to the salmon after a while if we weren't going to use preservation methods? These questions are answered using a delicious recipe by Damien Klein and exciting experiments.
Sea bream on sauerkraut and Luxembourg Fueskichelcher made by microorganisms
With the help of Lactobacillus and Saccharomyces cerevisiae , as well as the recipes by Ben Weber, we show how microorganisms transform simple ingredients into tasty dishes. Spectators can admire these tiny creatures in large measure and learn why such dishes usually require a little patience.
Orange tartlets with E-950/953
In this video we baked Cathy Goedert's delicious orange tart recipe with four different sugar substitutes: sucrose, fructose, E950 and E953. But what is the difference between these sugar substitutes and sugar? How do they taste? How are they processed by our body? These questions as well as interesting information about cotton candy and sugar decoration can be found in this sweet video. 
The project was crowned by a sweet final event: together with Cathy Goedert, visitors were able to discover delicious recipes and experience spectacular experiments. Science for all ages.
PROJECT: Unpuzzling mathematics
«Unpuzzling mathematics» is a project financed by a PSP-Classic grant by the Fonds national de la recherche (FNR). The project aims to transmit the joy and excitement of one of the most important, yet relatively unknown, subjects of modern research: mathematics.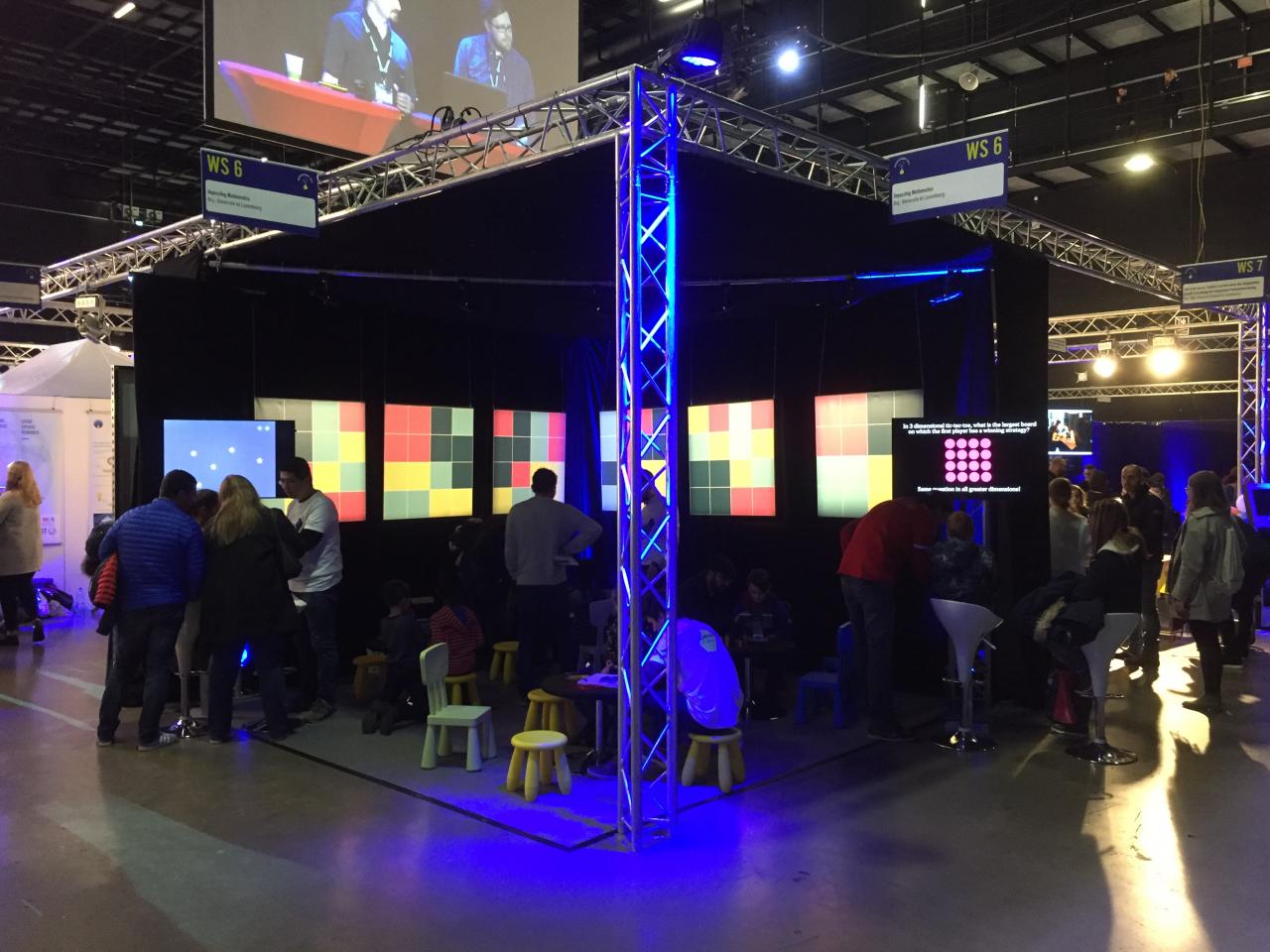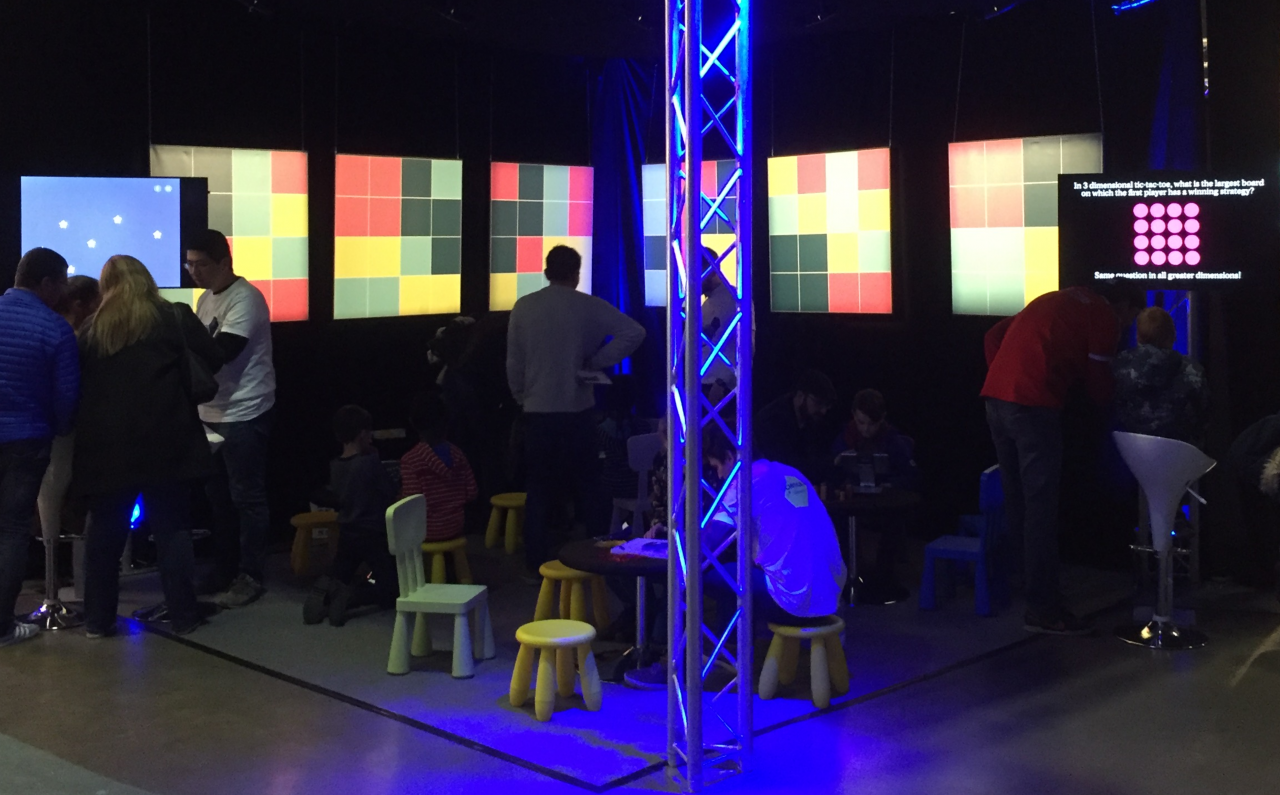 Building on the interactive book-app "Mathema" (https://tom-books.com/mathema/) written by Hugo Parlier (http://math.uni.lu/parlier/) from the University of Luxembourg and Paul Turner (http://www.unige.ch/~turnerpa/) from the University of Geneva, the goal of the current projects is threefold:
The

first objective

is to

make "Mathema" (currently only available on iPad) available for Android

.

The

second objective

is to

create a new puzzle app,

conceived following user experience of Mathema and our experience using Mathema in public events.

The

third and final objective

is to

create an interactive exhibit

based on the combinatorial games in Mathema and the App. The exhibit will take a permanent spot at the Luxembourg Science Center.